Thoracosaurus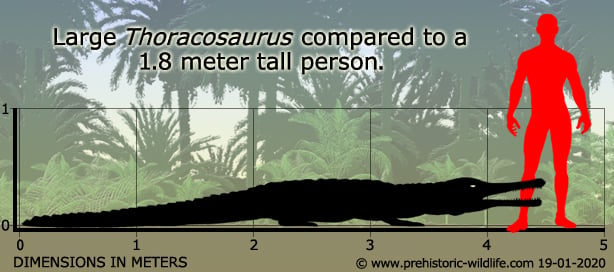 Name: Thoracosaurus.
Phonetic: Fo-rak-o-sore-us.
Named By: Joesph Leidy‭ ‬-‭ ‬1842.
Synonyms: Gavialis neocesariensis.
Classification: Chordata,‭ ‬Reptilia,‭ ‬Crocodilia,‭ ‬Gavialoidea.
Species: T.‭ ‬neocesariensis‭ (‬type‭)‬,‭ ‬T.‭ ‬isorhynchus,‭ ‬T.‭ ‬scanicus.
Diet: Carnivore/Piscivore.
Size: Total body length in larger individuals easily up to‭ ‬4.5‭ ‬meters long.
Known locations: Across North America,‭ ‬Europe.‭ ‬Also reported fossils in Asia.
Time period: Late Cretaceous/early‭ ‬Paleocence.
Fossil representation: Partial remains of numerous individuals.
Thoracosaurus is a medium-large gharial-like crocodile that lived during the late Cretaceous through to the Paleocene.‭ ‬Fossils of Thoracosaurus are usually associated with‭ ‬North American and European fossil deposits,‭ ‬but remains from other places such as‭ ‬India have also been reported.‭ ‬The sheer number of Thoracosaurus fossils seems to indicate that the genus was quite successful when compared to other similar creatures of the times and location that the genus existed.
Further reading
- Osteology and phylogenetic significance of Eosuchus minor (Marsh, 1870) new combination, a longirostrine crocodylian from the Late Paleocene of North America. - Journal of Paleontology. 80 (1): 162–186. - C. A. Brochu - 2006.
----------------------------------------------------------------------------
Random favourites