Anatosuchus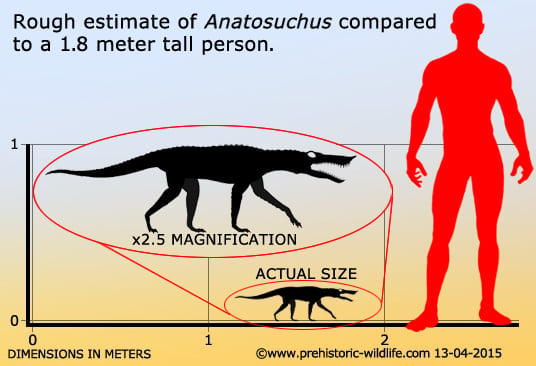 Name: Anatosuchus‭ (‬Duck crocodile‭)‬.
Phonetic: Ah-nat-oh-sook-‭ ‬us.
Named By: P. C. Sereno, C. A. Sidor, H. C. E. Larsson & B. Gado - 2003.
Classification: Chordata,‭ ‬Sauropsida,‭ ‬Archosauromorpha,‭ ‬Crocodylomorpha.
Species: A.‭ ‬minor‭ (‬type‭)‬.
Type: Carnivore.
Size: Estimated‭ ‬70‭ ‬centimetres long.
Known locations: Niger,‭ ‬Echkar Formation,‭ ‬Elrhaz Formation.
Time period: Aptian to Albian of the Cretaceous.
Fossil representation: Complete skull.
Anatosuchus was a small terrestrial crocodile with‭ ‬had‭ ‬a very specialised skull morphology,‭ ‬the result of which has been the nick name‭ '‬Duck croc‭'‬.‭ ‬The jaws resemble the bill of a duck with a single pointed protrusion extending from the front of the snout.‭ ‬It has been proposed that this protuberance was used to root out small prey items.
Further reading
- A new notosuchian from the Early Cretaceous of Niger. - Journal of Vertebrate Paleontology 23(2):477-482. - P. C. Sereno, C. A. Sidor, H. C. E. Larsson & B. Gado - 2003.
----------------------------------------------------------------------------
Random favourites