Pachyrhinosaurus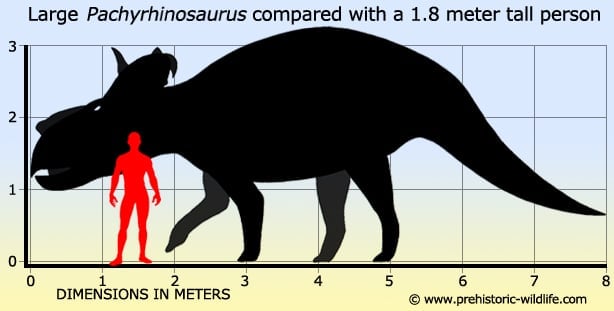 Name: Pachyrhinosaurus ‭(‬Thick nosed lizard‭)‬.
Phonetic: Pack-ee-rye-no-sore-us.
Named By: Charles Mortram Sternberg‭ ‬-‭ ‬1950.
Classification: Chordata,‭ ‬Reptilia,‭ ‬Dinosauria,‭ ‬Ornithischia,‭ ‬Ceratopsia,‭ ‬Ceratopsidae,‭ ‬Centrosaurinae,‭ ‬Pachyrostra.
Species: P.‭ ‬canadensis‭ (‬type‭)‬,‭ ‬P.‭ ‬lakustai,‭ ‬P.‭ ‬perotorum.
Diet: Herbivore.
Size: 8‭ ‬meters long.
Known locations: Canada,‭ ‬Alberta‭ ‬-‭ ‬Bearpaw Formation,‭ ‬Horseshoe Canyon Formation.‭ ‬USA,‭ ‬Alaska‭ ‬-‭ ‬Prince Creek Formation.
Time period: Campanian of the Cretaceous.
Fossil representation: Skulls of many individuals as well as hundreds of associated bones.
Even though it did not have the elaborate horns of some ceratopsians like Einiosaurus,‭ ‬Pachyrhinosaurus has become a favourite amongst ceratopsian dinosaur enthusiasts because of the large bony growth called a boss that is present on top of its snout.‭ ‬A second smaller boss was also present over the eyes and is sometimes close to the nasal boss.‭ ‬Pachyrhinosaurus still possessed some small horns,‭ ‬particularly around the edges of the frill.‭ ‬Some of these characteristics are shared amongst the Pachyrhinosaurus species while some are unique to just one species.
Distinguishing characteristics of Pachyrhinosaurus species
| | | | |
| --- | --- | --- | --- |
| Distinguishing feature | P. canadensis | P. lakustai | P. perotorum |
| Eye and snout bosses almost together? | Yes | No | Yes |
| Two curved backwards pointing horns on frill? | Yes | Sometimes | No |
| Jagged 'comb' extension on tip of nasal boss? | No | Yes | Yes |
| Narrow dome in centre of upper portion of nasal boss? | No | No | Yes |
| Pommel on the front of nasal boss? | No | Yes | No |
| Two flattened horns that point forwards and down from top of frill? | Yes | No | No |
| Flat and rounded nasal boss? | Yes | No | No |
| Comb-like horn rising from middle of frill behind the eyes? | No | Yes | No |
| Known formations for the species | Horseshoe Canyon | Bearpaw, Horseshoe canyon | Prince Creek |
The first Pachyrhinosaurus fossils were actually discovered way back in‭ ‬1880,‭ ‬but they did not get the attention they deserved until the late‭ ‬1940s which would result in the establishment of the type species in‭ ‬1950.‭ ‬The most significant discovery relating to Pachyrhinosaurus however was the excavation of the Pipestone Creek bone bed in the late eighties‭ (‬originally discovered by Al Lakusta in‭ ‬1972‭) ‬which ultimately yielded three and a half thousand Pachyrhinosaurus bones as well as fourteen skulls.‭ ‬These bones represent individuals of all ages from fully grown adults to juveniles,‭ ‬suggesting that ceratopsians like Pachyrhinosaurus moved around in herds,‭ ‬possibly as a protection against large tyrannosaurid predators like Albertosaurus.‭
One explanation for this bone bed occurring is that the Pachyrhinosaurus were crossing a river that may have been swollen with flood water,‭ ‬resulting in treacherous conditions that claimed the lives of many of the herd.‭ ‬Similar bone beds are also known for other ceratopsian dinosaurs like Centrosaurus and Styracosaurus.‭ ‬Specimens from this bone bed display a mix of convex‭ (‬curved outward‭) ‬and concave‭ (‬curved inward‭) ‬bosses.‭ ‬While speculation for this has been cited as representing male and female specimens,‭ ‬the differences may have been caused by erosion of the material.‭ ‬Individuals from this bone bed were named Pachyrhinosaurus lakustai after Al Lakusta.
Further reading
- Pachyrhinosaurus canadensis, representing a new family of the Ceratopsia, from southern Alberta - National Museum of Canada Bulletin 118:109-120 - Charles M. Sternberg - 1950.
- The thick-headed ceratopsian dinosaur Pachyrhinosaurus (Reptilia: Ornithischia), from the Edmonton Formation near Drumheller, Canada - Canadian Journal of Earth Sciences 4:171-186 - W. Langston - 1967.
- A further note on Pachyrinosaurus (Reptilia: Ceratopsia) - Journal of Paleontology 42(5):1303-1304 - W. Langston - 1968.
- A new species of Pachyrhinosaurus (Dinosauria, Ceratopsidae) from the Upper Cretaceous of Alberta, Canada - in A New Horned Dinosaur from an Upper Cretaceous Bone Bed in Alberta. NRC Research Press, Ottawa 1-108 - P. J. Currie, W. Langston & D. H. Tanke - 2008.
- A new species of the centrosaurine ceratopsid Pachyrhinosaurus from the North Slope (Prince Creek Formation: Maastrichtian) of Alaska - Acta Palaeontologica Polonica 57 (3): 561–573 - Anthony R. Fiorillo & Ronald S. Tykosk- 2012.
- An Immature Pachyrhinosaurus perotorum (Dinosauria: Ceratopsidae) Nasal Reveals Unexpected Complexity of Craniofacial Ontogeny and Integument in Pachyrhinosaurus - PLoS ONE 8(6) - Anthony R. Fiorillo & Ronald S. Tykosk- 2013.
----------------------------------------------------------------------------
Random favourites