Gastornis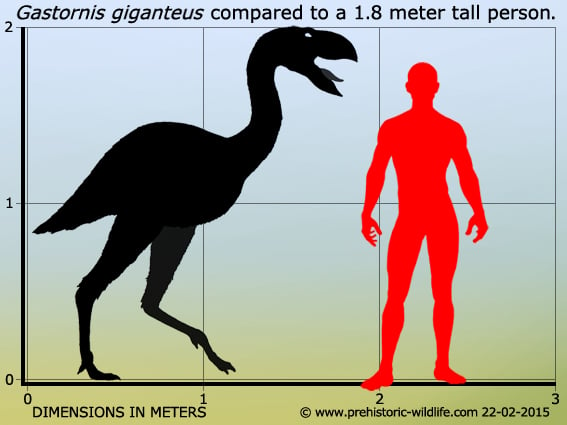 Name: Gastornis ‭(‬Gaston's bird‭)‬.
Phonetic: Gas-tor-niss.
Named By: Hébert‭ ‬-‭ ‬1855.
Synonyms: Barornis,‭ ‬Diatryma,‭ ‬Gastornis eduardsii,‭ ‬Gastornis minor,‭ ‬Omorhamphus,‭ ‬Zhongyuanus.
Classification: Chordata,‭ ‬Aves,‭ ‬Anseriformes,‭ ‬Gastornithidae.
Species: G.‭ ‬parisiensis‭ (‬type‭)‬,‭ ‬G.‭ ‬giganteus,‭ ‬G.‭ ‬geiselensis,‭ ‬G.‭ ‬sarasini,‭ ‬G.‭ ‬russeli,‭ ‬G.‭ ‬xichuanensis.
Diet: Uncertain,‭ ‬but probably herbivorous,‭ ‬refer to main text for clarification.
Size: Largest individuals easily up to‭ ‬2‭ ‬meters tall.
Known locations: Belgium.‭ ‬China.‭ ‬England.‭ ‬France.‭ ‬Germany.‭ ‬USA.
Time period: Paleocene to early Eocene.
Fossil representation: Numerous individuals of varying levels of completeness,‭ ‬but so many fossils have now been discovered that the form of Gastornis is now known without doubt.
History and classification of Gastornis
Gastornis was first named as a genus in‭ ‬1855‭ ‬by E.‭ ‬Hébert.‭ ‬Gastornis means‭ '‬Gaston's bird‭'‬,‭ ‬and Hébert chose this name to honour Gaston Planté,‭ ‬the man who discovered the first ever‭ (‬and hence holotype‭) ‬fossils of Gastornis in the French Argile Plastique Formation that is not far from Paris.‭ ‬This location was in turn the inspiration of the type species name G.‭ ‬parisiensis,‭ ‬which simply means‭ '‬from Paris‭'‬.
Further fossils were found in the‭ ‬1860s and‭ ‬1870s,‭ ‬but early reconstructions of Gastornis were quite some way out from what we know today,‭ ‬and this is mainly due to the first reconstructions being composites of fossils of different animals.‭ ‬This also led to Gastornis being depicted as more of a crane-like bird with a very slender neck and narrow skull.‭ ‬However the actual skull of Gastornis had not been found save for a few scant fragments,‭ ‬and this crane-like skull was the perceived‭ '‬ideal‭' ‬by a man named Lemoine.
At this time and on the other side of the Atlantic in the United States of America,‭ ‬the paleontological community was in the midst of the‭ '‬bone wars‭'‬,‭ ‬a fierce rivalry between two naturalists named Edward Drinker Cope and Othniel Charles Marsh who were desperately trying to outdo one another.‭ ‬In‭ ‬1874‭ ‬Cope named a new fossil bird that he called Diatryma.‭ ‬Diatryma was a huge flightless bird of considerable size,‭ ‬though much of the skeleton and skull was still missing.‭ ‬In‭ ‬1894,‭ ‬Marsh named a new genus based upon just a toe bone called Barornis,‭ ‬though by‭ ‬1911‭ ‬it‭ ‬is was declared to be synonymous with Diatryma.‭ ‬Very early in the twentieth century,‭ ‬several individuals of Diatryma,‭ ‬including almost complete skulls and skeletons had been found,‭ ‬not only in the United States,‭ ‬but in Europe also,‭ ‬and this would be the beginning of questions about the validity of Diatryma.
A similarity between Diatryma and Gastornis was noted as early as‭ ‬1884‭ ‬by the American Elliot Coues,‭ ‬and from this point and throughout most of the twentieth century a fairly quiet but long running debate about if Diatryma and Gastornis were one and the same continued to run.‭ ‬The main sticking point for both supporters and opponents to the theory was that the reconstruction of Gastornis by Lemoine did not look like Diatryma.‭ ‬However,‭ ‬in‭ ‬1980‭ ‬the truth about Lemoine's reconstruction being a composite was realised for the first time,‭ ‬and when known fossils of Gastornis were carefully compared to those of Diatryma there was no doubt about the result:‭ ‬Diatryma was the same bird as Gastornis.‭ ‬Because the name Gastornis was registered some nineteen years before Cope named Diatryma,‭ ‬and no special case could be argued to preserve Diatryma‭ (‬as what happened for Tyrannosaurus‭)‬,‭ ‬all Diatryma fossils whether they were from North America or Europe became known as fossils of Gastornis.
In‭ ‬1980‭ ‬a new genus of bird based upon a foot bone from Henan Province in China was named as Zhongyuanus xichuanensis.‭ ‬However in‭ ‬2013‭ ‬this genus was renamed as a new species of Gastornis,‭ ‬G.‭ ‬xichuanensis.
Gastornis is now the type genus of a group of birds called the Gastornithidae,‭ ‬but what surprises many people is the fact the Gastornithidae is usually placed within a larger group called the Anseriformes which includes modern birds such as ducks,‭ ‬geese and swans.‭ ‬The gastornithids are distant relatives of the dromornithids,‭ ‬which include very large flightless birds that used to live in Australia.‭ ‬There does not seem to be any link direct link between gastornithids and phorusrhacids‭ (‬better known as the South American‭ '‬terror birds‭')‬,‭ ‬though there has been some speculation that one phorusrhacid named Brontornis may actually be a gastornithid.
Gastornis the bird
Gastornis was a very large flightless bird,‭ ‬with the largest species such as G.‭ ‬giganteus easily reaching heights of two meters.‭ ‬The legs were well developed with a stride that could cover a lot of ground allowing Gastornis to reach quite fast speeds.‭ ‬The wings by contrast were so underdeveloped that they were what is known as vestigial,‭ ‬present,‭ ‬but serving no practical physical purpose.‭ ‬However the vestigial wings may have still served a display purpose,‭ ‬especially if a different colour or type of plumage grew from them.‭ ‬As far as feathers go,‭ ‬Gastornis is usually recreated with hair-like feathers that would have been more for insulation and waterproofing during rainfall.‭ ‬This analysis was based upon early feathers attributed to Diatryma,‭ ‬but were later found to be plant fibres.‭ ‬A second feather that might belong to‭ ‬Gastornis however has now been identified,‭ ‬and this is a vaned feather similar to the body feathers that are commonly seen on flight capable birds.‭ ‬Again,‭ ‬other different feather types,‭ ‬particularly those for display may have grown upon different areas,‭ ‬but no clear remains exist at the time of writing.
When it was still known as Diatryma,‭ ‬Gastornis was one of the best represented prehistoric birds in popular science books about prehistoric animals.‭ ‬Usually this bird would be depicted as a terrible predator that chased after primitive horses such as Hyracotherium,‭ ‬killing them with their beaks.‭ ‬However this interpretation is now not only seen to be antiquated but just plain wrong by most researchers.‭
Gastornis had a large and robust beak and when the musculature is reconstructed it is clear that Gastornis would have been capable of an exceptionally strong bite.‭ ‬This was once the only evidence that people needed to suggest that Gastornis was a predator because the strength of the beak was far beyond that necessary for an herbivorous diet.‭ ‬However the beak of Gastornis is also notable for not having a hooked tip,‭ ‬a feature that is common in meat eating birds as it greatly helps to hook into and tear off strips of flesh in the absence of teeth.‭ ‬The feet of Gastornis are also noted as not having‭ ‬curved talons which could hook into and tear into bodies,‭ ‬another feature commonly seen‭ ‬in meat eating birds,‭ ‬but again absent in Gastornis.
One of the most conclusive studies concerning the diet of Gastornis was published in‭ ‬2014‭ (‬Angst et al‭) ‬and was focused upon the analysis of calcium isotopes preserved in the fossils of Gastornis.‭ ‬These isotopes clearly indicate that the Gastornis fossils tested all came from herbivores‭ (‬plant eaters‭) ‬and not carnivores‭ (‬meat eaters‭)‬.‭ ‬Because of this Gastornis is now perceived to be mostly if not exclusively herbivorous and using its powerful beak to shear through tough vegetation.
As a genus Gastornis is known to have existed for many millions of years and with fossils known from Europe,‭ ‬Asia and North America,‭ ‬there is no doubt that Gastornis was one of the most successful of the large flightless birds that once roamed the planet.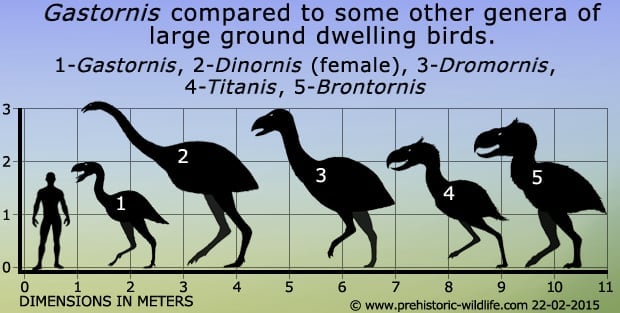 Click these names for more information.
Dinornis
,
Dromornis
,
Titanis
,
Brontornis
.
Further reading
-‭ ‬Annonce de la découverte d'un oiseau fossile de taille gigantesque,‭ ‬trouvé à la partie inférieure de l'argile plastique des terrains parisiens‭ ["‬Announcement of the discovery of a fossil bird of gigantic size,‭ ‬found in the lower Argile Plastique formation of the Paris region‭"]‬.‭ ‬-‭ ‬C.‭ ‬R.‭ ‬Hebd.‭ ‬Academy Sciiences Paris‭ (‬in French‭) ‬40:‭ ‬554‭–‬557.‭ ‬-‭ ‬1855.
-‭ ‬Note sur le tibia du Gastornis pariensis‭ [‬sic‭] [‬Note on the tibia of Gastornis‭ ‬parisiensis‭]‬.‭ ‬-‭ ‬C.‭ ‬R.‭ ‬Hebd.‭ ‬Academy of Sciences Paris‭ ‬40:‭ ‬579‭–‬582.‭ ‬E.‭ ‬Hébert‭ ‬-‭ ‬1855a.
-‭ ‬Note sur le femur du Gastornis pariensis‭ [‬sic‭] [‬Note on the femur of Gastornis‭ ‬parisiensis‭]‬.‭ ‬-‭ ‬C.‭ ‬R.‭ ‬Hebd.‭ ‬Academy of Sciences Paris‭ ‬40:‭ ‬579‭–‬582.‭ ‬E.‭ ‬Hébert‭ ‬-‭ ‬1855b.
-‭ ‬On a gigantic bird from the Eocene of New Mexico.‭ ‬-‭ ‬Proceedings of the Academy of Natural Sciences of Philadelphia‭ ‬28‭ (‬2‭)‬:‭ ‬10‭–‬11.‭ ‬-‭ ‬Edward Drinker Cope‭ ‬-‭ ‬1876.
-‭ ‬Recherches sur les oiseaux fossiles des terrains tertiaires inférieurs des environs de Reims‭ ‬2.‭ ‬-‭ ‬Matot-Braine,‭ ‬Reims.‭ ‬pp.‭ ‬75‭–‬170.‭ ‬-‭ ‬V.‭ ‬Lemoine‭ ‬-‭ ‬1881a.
-‭ ‬Sur le Gastornis Edwardsii et le Remiornis Heberti de l'éocène inférieur des environs de Reims‭ ["‬On G.‭ ‬edwardsii and R.‭ ‬heberti from the Lower Eocene of the Reims area‭"]‬.‭ ‬-‭ ‬C.‭ ‬R.‭ ‬Hebd.‭ ‬Acad.‭ ‬Sci.‭ ‬Paris‭ (‬in French‭) ‬93:‭ ‬1157‭–‬1159.‭ ‬-‭ ‬V.‭ ‬Lemoine‭ ‬-‭ ‬1881b.
-‭ ‬The skeleton of Diatryma,‭ ‬a gigantic bird from the Lower Eocene of Wyoming.‭ ‬-‭ ‬Buletin of the American Museum of Natural History,‭ ‬37‭(‬11‭)‬:‭ ‬307-354.‭ ‬-‭ ‬W.‭ ‬D.‭ ‬Matthew,‭ ‬W.‭ ‬Granger‭ & ‬W.‭ ‬Stein‭ ‬-‭ ‬1917.
-‭ ‬The Supposed Plumage of the Eocene Bird Diatryma.‭ ‬-‭ ‬American Museum Novitates‭ ‬62:‭ ‬1‭–‬4.‭ ‬-‭ ‬Theodore Dru Alison Cockerell‭ ‬-‭ ‬1923.
-‭ ‬Omorhamphus,‭ ‬a New Flightless Bird from the Lower Eocene of Wyoming.‭ ‬-‭ ‬Proceedings of the‭ ‬American Philosophical Society.‭ ‬LXVII‭ (‬1‭)‬:‭ ‬51‭–‬65.‭ ‬-‭ ‬W.‭ ‬J.‭ ‬Sinclair‭ ‬-‭ ‬1928.
-‭ ‬Fossil Bird Remains from the Eocene of Wyoming.‭ ‬-‭ ‬Condor‭ ‬35‭ (‬3‭)‬:‭ ‬115‭–‬118.‭ ‬-‭ ‬Alexander Wetmore‭ ‬-‭ ‬1933.
-‭ ‬New form of the Gastornithidae from the Lower Eocene of the Xichuan,‭ ‬Honan.‭ ‬-‭ ‬Vertebrata Palasiatica‭ ‬18:‭ ‬111-115.‭ ‬-‭ ‬L.‭ ‬Hou‭ ‬-‭ ‬1980.
-‭ ‬Biomechanics of the jaw apparatus of the gigantic Eocene bird Diatryma:‭ ‬Implications for diet and mode of life.‭ ‬-‭ ‬Paleobiology‭ ‬17‭ (‬2‭)‬:‭ ‬95‭–‬120.‭ ‬-‭ ‬Lawrence Witmer‭ & ‬Kenneth Rose‭ ‬-‭ ‬1991.
-‭ ‬The status of the Late Paleocene birds Gastornis and Remiornis.‭ ‬-‭ ‬Los Angeles:‭ ‬Natural History Museum of Los Angeles County‭ (‬Sciences series‭) ‬36:97-108.‭ ‬-‭ ‬L.‭ ‬D.‭ ‬Martin‭ ‬-‭ ‬1992.
-‭ ‬Reappraisal of the Eocene groundbird Diatryma‭ (‬Aves:‭ ‬Anserimorphae‭)‬.‭ ‬-‭ ‬Papers in avian paleontology honoring Pierce Brodkorb–Natural History Museum of Los Angeles County Science Series‭ ‬36:‭ ‬109‭–‬125.‭ ‬-‭ ‬Allison Andors‭ ‬-‭ ‬1992.
-‭ ‬The status of the Late Paleocene birds Gastornis and Remiornis.‭ ‬-‭ ‬Papers in Avian Paleontology honoring Pierce Brodkorb.‭ ‬Natural History Museum of Los Angeles County,‭ ‬Science Series,‭ ‬36:‭ ‬97-108.‭ ‬-‭ ‬L.‭ ‬D.‭ ‬Martin‭ ‬-‭ ‬1992.
-‭ ‬New remains of the giant bird Gastornis from the Upper Paleocene of the eastern Paris Basin and the relationships between Gastornis and Diatryma.‭ ‬-‭ ‬N.‭ ‬Jb.‭ ‬Geol.‭ ‬Palâont.‭ ‬Mh.,‭ (‬3‭)‬:‭ ‬179-190.‭ ‬-‭ ‬E.‭ ‬Buffetaut‭ ‬-‭ ‬1997.
-‭ ‬Footprints of Giant Birds from the Upper Eocene of the Paris Basin:‭ ‬An Ichnological Enigma.‭ ‬-‭ ‬Ichnos‭ ‬11‭ (‬3‭–‬4‭)‬:‭ ‬357‭–‬362.‭ ‬-‭ ‬Eric Buffetaut‭ ‬-‭ ‬2004.
-‭ ‬Giant Eocene Bird Footprints From Northwest Washington,‭ ‬USA.‭ ‬-‭ ‬Palaeontology‭ ‬55‭ (‬6‭)‬:‭ ‬1293‭–‬1305.‭ ‬-‭ ‬George E.‭ ‬Mustoe,‭ ‬David S.‭ ‬Tucker‭ & ‬Keith L.‭ ‬Kemplin‭ ‬-‭ ‬2012.
-‭ ‬The giant bird Gastornis in Asia:‭ ‬A revision of Zhongyuanus xichuanensis Hou,‭ ‬1980,‭ ‬from the Early Eocene of China.‭ ‬-‭ ‬Paleontological Journal,‭ ‬47‭(‬11‭)‬:‭ ‬1302-1307.‭ ‬-‭ ‬E.‭ ‬Buffetaut‭ ‬-‭ ‬2013.
-‭ ‬Reappraisal of the bone inventory of Gastornis geiselensis‭ (‬Fischer,‭ ‬1978‭) ‬from the Eocene Geiseltal Fossillagerstatte‭ (‬Saxony-Anhalt,‭ ‬Germany‭)‬.‭ ‬-‭ ‬Neues Jahrbuch für Geologie und Paläontologie-Abhandlungen,‭ ‬269‭(‬2‭)‬:‭ ‬203-220.‭ ‬-‭ ‬M.‭ ‬Hullmund‭ ‬-‭ ‬2013.
-‭ ‬Isotopic and anatomical evidence of an herbivorous diet in the Early Tertiary giant bird Gastornis.‭ ‬Implications for the structure of Paleocene terrestrial ecosystems.‭ ‬-‭ ‬Naturwissenschaften‭ ‬-‭ ‬D.‭ ‬Angst,‭ ‬C.‭ ‬Lécuyer,‭ ‬R.‭ ‬Amiot,‭ ‬E.‭ ‬Buffetaut,‭ ‬F.‭ ‬Fourel,‭ ‬F.‭ ‬Martineau,‭ ‬S.‭ ‬Legendre,‭ ‬A.‭ ‬Abourachid‭ & ‬A.‭ ‬Herrel‭ ‬-‭ ‬2014.
----------------------------------------------------------------------------
Random favourites