Elginerpeton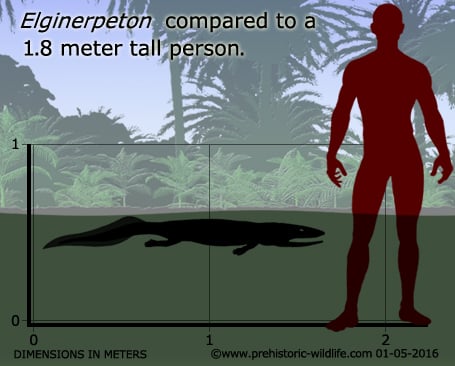 Name: Elginerpeton (Creeping animal from Elgin).
Phonetic: El-gin-erp-a-ton.
Named By: Per E. Ahlberg - 1995 .
Classification: Chordata, Tetrapoda, Amphibia, Ichthyostegalia, Elginerpetontidae.
Species: E. pancheni (type).
Type: Carnivore.
Size: Estimated 1.5 meters long.
Known locations: Scotland, Scat Craig.
Time period: Frasnian, Devonian.
Fossil representation: Single partial skeleton including jaw segments.
Analysis of Elginerpeton allowed for identification of Obruchevichthys, and together they represent an earlier group of tetrapods that pre-dated later species by several million years.
Further reading
- Elginerpeton pancheni and the earliest tetrapod clade. - Nature 373 (6513): 420–425. - Per E. Ahlberg - 1995.
----------------------------------------------------------------------------
Random favourites